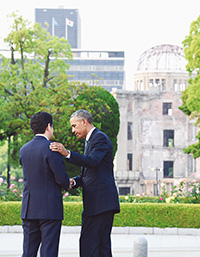 After the end of the Ise-Shima Summit on May 27, U.S. President Barack Obama visited the atomic-bombed city of Hiroshima, making him the first sitting U.S. president to visit the site.
President Obama was accompanied by Prime Minister and LDP President Shinzo Abe, who commented, "The leader of the only country to have utilized nuclear weapons and the leader of the only country to have ever suffered a nuclear attack extending condolences to the victims together will serve as a powerful force to bring about a world without nuclear weapons."
The leaders first visited the Hiroshima Peace Memorial Museum and then laid wreaths at the Cenotaph for the Atomic Bomb Victims in memory of all of the victims of World War II, including those who suffered from the atomic bombings in Hiroshima and Nagasaki. This was followed by a speech by President Obama, in which he reaffirmed his commitment to pursue a world without nuclear weapons.
Prime Minister Abe, as the prime minister of the nation that suffered a nuclear attack, also imparted a message of nuclear disarmament to the rest of world.