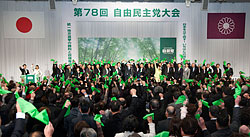 The 78th Party Convention was held on January 23rd, with 2700 party members and guests in attendance.
In his opening speech, President Sadakazu Tanigaki expressed his determination to return the LDP to the government benches. "We must drive the Kan administration to a dissolution of the Diet and have a general election called for the House of Representatives. We will recapture political power this year."
The attendees were united in their determination to strive for victory in the local elections to be held in spring, and for the likely general election later in the year.
Mr. Natsuo Yamaguchi, Chief Representative of the Komei Party, and Mr. Hiromasa Yonekura, Chairman of the Federation of Economic Organizations, made congratulatory speeches as guests of the Convention. The main guest speaker was Mr. Masayuki Okano of the Okano Industrial Company that had invented the world's thinnest and most painless needle. In his humorous speech he talked about how even a small business like his could use high technology to improve the world.
Secretary-General Nobuteru Ishihara reported on the current situation of the Party and explained details of the reformed Rules of the Party that included the setting up of a shadow cabinet system. Chairman of the Policy Research Council Shigeru Ishiba reported on current Party policy matters. The 2011 national campaign policy plan, which underlined the Party's determination to win the unified local elections and to return to government, was unanimously adopted.
Award ceremonies were also held, including the award for the winners of LDP's international foreign policy essay contest. The Convention closed to loud cheers of attendees for the prosperous future of Japan and for the progress of our Party. All the attendees present were united in their desire to return to government.