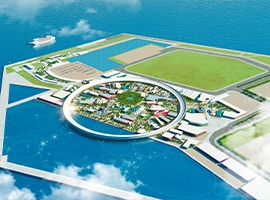 "Expo 25 Osaka, Kansai" will be held for six months from April 13 to October 13, 2025 under the banner of "Designing Future Society for Our Lives".
As of March 24, 153 countries have announced their participation, far exceeding the 121 countries that participated in "Expo 2005 Aichi, Japan" and already surpassing the targeted involvement of 150 countries. Eight international organizations have also announced their participation.
The main concept of Expo 25 Osaka, Kansai is to be a space where 8 billion people from around the world will not only view exhibits, but also will exchange their ideas to "co-create" our future society. The Expo is expected to serve as "a laboratory for a future society" where various cutting-edge technologies from around the world will be showcased to create and disseminate new ideas on global issues, such as carbon neutrality and the evolution and implementation of a digital society.
The "flying car," already earmarked as an Expo centerpiece, will be put to practical use connecting the center of Osaka City with the Expo site. Four operators have already been selected, and on March 14 a piloted demonstration flight was conducted.
Our Party strongly supports Japanese government engagement with this national project as we all aim for a successful Expo 25 Osaka, Kansai that will showcase the latest Japanese technologies and will serve as a launchpad for start-ups to propel themselves into the future.
Image of the completed Expo 2025 site (Courtesy: The Japan Association for the 2025 World Exposition)