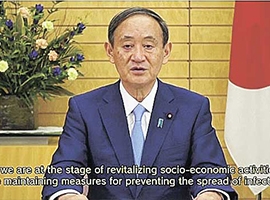 Prime Minister and LDP President Yoshihide Suga made his international conference debut via video during the General Debate of the United Nations General Assembly on the morning of September 26 (evening of the 25th of September, US Eastern time). He expressed strong resolve to "proactively lead international initiatives" to address the Covid-19 crisis facing countries around the world.
The majority of the speech was devoted to measures to combat Covid-19. Prime Minister Suga emphasized that "the spread of the infectious disease threatens security for all human beings, and it is crucial that our guiding principle be 'no one left behind.'" He expressed his strong will to "proactively lead international initiatives."
The Prime Minister also announced Japan's full support for the development of therapeutics and vaccines and their fair supply to developing countries. Other measures include support for the strengthening of healthcare systems with the construction of hospitals and development of human resources, as well as for the establishment of health security by promoting, for example, better water supply systems.
Mr. Suga went on to describe his proposal for international organizations to mediate and manage vaccine patents in developed countries and make them available to developing countries in the framework of "patent pooling."
He also revealed Japan's plan to provide up to 500 billion yen in emergency loans available to developing countries for economic measures in the wake of Covid-19.
Turning to the post-corona international community, Prime Minister Suga underscored the "necessity of building flexible and resilient societies where the SDGs have been achieved and a virtuous cycle of environment and growth is generated." For that to happen, multilateralism, proactive contributions to peace, and the rule of law are vital, he emphasized.
The Prime Minister also vowed to hold the Tokyo Olympics and Paralympics as a "proof that humanity has defeated the pandemic." On the abduction problem, he said he was "ready to meet unconditionally with Chairman (Workers' Party of Korea) Kim Jong Un and would bring all resources to bear, leaving no opportunity untapped."
Prime Minister Yoshihide Suga addresses the United Nations General Assembly by video (Morning, September 26, from the UN website) https://nettv.gov-online.go.jp/prg/prg21260.html