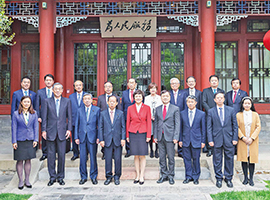 Secretary-General Toshihiro Nikai (Prime Minister Abe's special envoy) and Acting Secretarie-Generals Motoo Hayashi and Katsutoshi Kaneda were among nine Party-affiliated Diet members who traveled to Beijing and Shanghai. They were joined by Chairperson Hiroaki Nakanishi of Japan Business Federation (Keidanren), the governors of Kochi, Shiga and Yamanashi prefectures, and top officials from agricultural organizations and the Japan Association of Travel Agents.
Secretary-General Nikai had a full schedule during the trip, meeting with President Xi Jinping and speaking at a "One Belt, One Road" high-level forum for international cooperation.
Secretary-General Nikai also met with Shanghai Party Secretary Li Qiang and State Council Vice-Premier Hu Chunhua among other dignitaries, where he confirmed the importance of the Japan-China friendship. Meanwhile, the three prefectural governors and JA Group officials attended events for Japanese food products and actively promoted the attractions of the Japanese countryside.
The trip produced great results in the preparation for the upcoming meeting between Prime Minister and LDP President Shinzo Abe and President Xi on the sidelines of the G20 Osaka Summit in June.