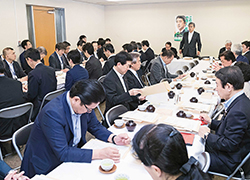 On May 15, LDP's Project Team for the Evaluation of Intelligence and Security (Chairperson: Takeshi Iwaya, member of the House of Representatives) discussed the "Center for Sharing Global Terrorism and Relevant Information" (tentative name) to be established this summer under the International Counter-Terrorism Intelligence Collection Office of the Cabinet Secretariat.
Establishment of the center is explicitly recommended in the guidelines on counter-terrorism promotion for the 2020 Tokyo Olympics and Paralympics Games finalized by the government in December 2017.
The government established the International Counter-Terrorism Intelligence Collection Unit in the Ministry of Foreign Affairs in 2015 in preparation for the Tokyo Olympics and Paralympics. During last year's general election, the Party also promised to move forward on anti-terrorism measures with a platform to strengthen intelligence collection and analysis as a terrorism prevention tool.
During the meeting, the relevant ministries and agencies explained that the center would centralize the management of terrorism information currently managed by individual ministries and agencies, enabling agency-level databases and insights to be more effectively utilized to arrive at a clearer and a more detailed understanding of potential terrorism incidents.
Members in attendance called for better information analysis capabilities and improved coordination with the National Security Secretariat, while relevant ministries and agencies indicated their intention to actively tackle these issues.