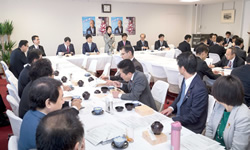 On March 30, LDP's Foreign Affairs Division (Director: Masashi Adachi, member of the House of Councillors), Economy, Trade and Industry Division (Director: Kenichiro Ueno, member of the House of Representatives), Land, Infrastructure and Transport Division (Director: Kazuyuki Nakane, member of the House of Representatives), and Headquarters for North Korean Abductions (Chairperson: Eriko Yamatani, member of the House of Councillors) held a joint meeting in which they agreed to extend Japan's independent sanctions on North Korea for an additional 2 years.
The extensions include the ban from Japanese ports of all North Korean vessels as well as third-country vessels that have called at North Korean ports, including those for humanitarian purposes, and also the ban on all exports to and imports from North Korea.
The sanctions were scheduled to terminate on April 13, but the government determined an extension was warranted in light of the repeated launches of ballistic missiles and the abduction problems - priority tasks for the Abe Cabinet, that have not yet been resolved.
The current Diet session will be asked to approve the extension.
In her opening remarks, Chairperson Yamatani commented on a recent meeting in Geneva, Switzerland in which the United Nations Human Rights Council adopted a resolution strongly condemning North Korea for human rights violations, including abduction problems. She went on to emphasize the Party's resolve to work in close coordination with the government, doing everything possible to leverage the independent sanctions into a comprehensive resolution of the issues between the two countries: "abductions, nuclear, and missile issues."