Prime Minister and LDP President Shinzo Abe made a six-day tour of the Philippines, Australia, Indonesia and Viet Nam from January 12 to 17. The visits marked the start of this year's "Diplomacy that Spans the Globe" initiative, and the Prime Minister's purpose was to strengthen cooperative relationships and work together with the leading countries in the Asia-Pacific to maintain a free and open international order based on the rule of law.
■ Viet Nam
Prime Minister Abe met with Prime Minister Nguyen Xuan Phuc of the Socialist Republic of Viet Nam, which has a dispute with China over territorial rights in the South China Sea. Prime Minister Abe announced that Japan would provide Viet Nam six new patrol vessels as part of efforts to strengthen bilateral security and defense cooperation.
<January 16 (Monday) Hanoi>
■ Indonesia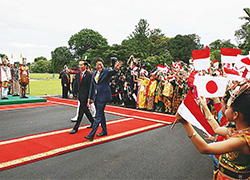 Prime Minister Abe raised his hand in response to the crowd waving the Japanese flag at a welcoming ceremony attended by President Joko Widodo of the Republic of Indonesia. At the summit, Prime Minister Abe promised to support development of outlying islands in the South China Sea, saying, "Our top priority is cooperation on maritime fields."
<January 15 (Sunday) Jakarta>
■ Philippines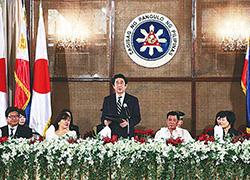 Prime Minister Shinzo Abe held a summit with President Rodrigo Duterte of the Republic of the Philippines. At the welcoming dinner, Prime Minister Abe expressed his ambition to "deepen the bonds of friendship and cooperation between the people of Japan and the Philippines."
<January 12 (Thursday) Manila>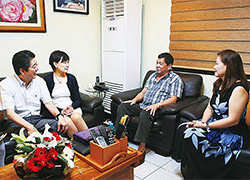 Prime Minister Abe visited the city of Davao, where President Duterte served as mayor and became famous for his efforts to "eradicate narcotics." First Lady Akie accompanied Prime Minister Abe on a visit to the President's private residence, where the two leaders deepened their friendship over breakfast.
<January 13 (Friday) Davao, Philippines>
■ Australia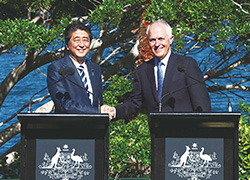 Prime Minister Abe joined Prime Minister Malcolm Turnbull of the Commonwealth of Australia for the signing ceremony of the new Japan-Australia Acquisition and Cross-Servicing Agreement (ACSA) that enables ammunition supply between the Self-Defense Force and the Australian military. The two leaders emphasized the importance of "Japan-Australia collaboration" at a joint press conference.
<January 14 (Saturday) Sydney, Australia>