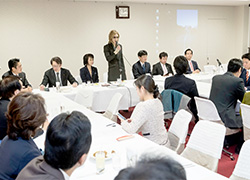 The Party's Special Mission Committee for Promotion of the Cool Japan Strategy (Chairperson: Ichita Yamamoto, member of the House of Councillors) invited Yoshiki, the leader of the rock band "X Japan," to the Party Headquarters on November 30 for an exchange of opinions.
Yoshiki has based his activities in the United States for the past 20 years, and he talked about the difficulties of moving overseas, particularly language learning. "Nothing happens quickly, the first four or five years. It's a series of problems," he said.
He also discussed his desire to "break down the barriers between the East and West for the next generation," and warned Japanese artists seeking to move overseas "not to expect someone to be there to save you."
Yoshiki had high praise for the government's project to open a "Japan House" in Los Angeles in the next fiscal year to serve as a strategic communications point for Japan. He said, "Having someplace to teach Japanese culture right in the heart of Hollywood will have an enormous impact."
Chairperson Yamamoto discussed the committee's resolve to do everything possible to expand support for people who can take the lead in the Cool Japan Strategy. "Japanese people who are active on the world stage are all Cool Japanese. No matter what the field, I'd like to develop a mechanism to provide support in some form," he said.