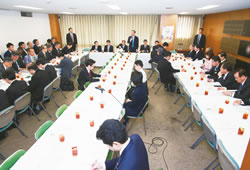 The Kumamoto Earthquake caused enormous damage around Kyushu. In Kumamoto Prefecture alone, approximately 67,000 have been forced to live in shelters (Cabinet Office announcement, as of 13:30, April 23). Immediately after the earthquake on April 14, the Party established an "Emergency Response Headquarters for the 2016 Kumamoto Earthquake" reporting directly to Party President Shinzo Abe. Led by Sadakazu Tanigaki, the headquarters coordinates party-wide efforts for reconstruction and victim assistance in the disaster area.
"We want to continue to do everything possible to find those who are missing. They are approaching one week living in shelters, and this entails significant psychological and physical stress for the people there. We need to do everything in our power to enable them to move to somewhere they can live with more ease as quickly as possible."
Chairperson Tanigaki made these grave comments on April 21, one week after the first earthquake at a joint meeting with the Comprehensive Research Commission on the Establishment of the Disaster Resilient Japan.
The Party established the Emergency Response Headquarters immediately after the earthquake. It is responsible for monitoring the damage and collecting requests from local governments in the disaster area. It receives daily briefings from ministries and agencies on the government's actions, and has sent a fact-finding mission to the disaster area.
The fact-finding mission, headed by Hiroyuki Sonoda, member of the House of Representatives, arrived in Kumamoto on April 15. After meeting with Prefectural Governor Ikuo Kabashima, the mission visited the town of Mashiki, where the damage was particularly severe. Upon returning to the capital, the mission presented seven urgent requests to the government: (1) life-saving and rescue activities; (2) early restoration of lifelines; (3) additional relief supplies; (4) provision of trustworthy evacuation sites; (5) housing inspection for risk of collapse; (6) support for the healthcare system; and (7) official designation as a disaster of extreme severity.
The mission noted the e existence of people "who are afraid of being indoors," and called for wide-area provision of facilities with excellent anti-seismic performance to provide an environment in which people can live with a degree of comfort and ease. The Party began delivering relief supplies to the area on April 19. At the request of Party's Kumamoto Prefecture Branch, the first shipment was drinking water.
The LDP has led the government response to disasters as the party of political responsibility. Aftershocks continue to be felt in the disaster area, and there is potential for landslides and other secondary damage. We will continue to make full use of our expertise and our network of local branches, sparing no effort for reconstruction and victim assistance in the disaster area.