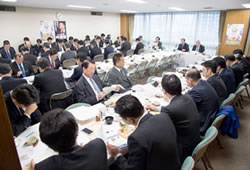 In response to the adoption of "World Tsunami Awareness Day" (November 5), Toshihiro Nikai, Chairperson of the Party's Comprehensive Research Commission on the Establishment of the Disaster Resilient Japan, visited the UN Headquarters in New York (USA) from March 28 to 31 to exchange opinions with representatives of other countries. Chief-Secretary Teru Fukui reported on the trip to a meeting of the research commission on April 14.
Both Chief-Secretary Fukui and Deputy Chairperson Tsuyoshi Yamaguchi accompanied Chairperson Nikai to the United States. During a meeting with UN Deputy Secretary-General Jan Eliasson, they confirmed the need to mitigate the human damage caused by disaster and strengthen coordination between Japan and the United Nations.
There was also a meeting to exchange opinions with approximately 100 participants, including UN General Assembly President Mogens Lykketoft and 18 permanent representatives to the UN. Chairperson Nikai proposed holding a "High School Student Summit" in Japan for 1,000 young people from countries around the world in conjunction with this year's World Tsunami Awareness Day. The proposal was approved by the national representatives.
During the visit, Chairperson Nikai also met with Organization for Economic Co-operation and Development (OECD) Secretary-General Angel Gurria and US Assistant Secretary of State Daniel Russel to exchange opinions about coordination in the disaster preparedness and response areas.
The primary purpose of "World Tsunami Awareness Day" is to confirm that tsunami damage is a common issue affecting the world and to deepen understanding of and interest in tsunami response. Chairperson Nikai advocated establishing the day at the World Conference on Disaster Risk Reduction held in Sendai in March of last year in a joint proposal made by 142 countries, including Japan. It was unanimously adopted by the United Nations General Assembly last December.