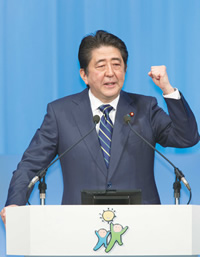 Summary of Party President Shinzo Abe's remarks
On March 11 we marked the fifth anniversary of the Great East Japan Earthquake. Since we retook the government, reconstruction has moved steadily forward, but it is a fact that there are still many people forced to endure life in temporary housing. We extend our sympathies to the victims and our commitment to faithfully rebuild the disaster area.
The global economy is becoming more uncertain, and the opposition parties have already concluded that "Abenomics is a failure." However, the numbers clearly show that they are wrong. We continue to make progress toward our goals of "dynamic engagement of all citizens" and nominal GDP of 600 trillion yen.
Our approach to regional development is for people in their communities to take the lead in developing their area's potential, while the central government provides backing and support. The regional areas in Japan have some of the best agricultural, forestry and fishery products in the world. We are pressing ahead with reforms to agricultural administration as we create a new era in which young people are inspired by and aspire to work in agriculture.
Last year was the 70th year since the end of the war. Our Party bears the enormous responsibility of protecting the lives, happiness and livelihoods of the Japanese people. The peace and security legislation was enacted for just that purpose, but the Democratic Party of Japan has joined the Japanese Communist Party in trying to repeal it. They will do anything if it will help them win in elections. They will collaborate with anyone. We will not be defeated by this irresponsible party.
The battle this year will be between the LDP-Komeito coalition and the combined forces of the DPJ and JCP. It will be the first vote cast by our young 18 and 19-year-old citizens. We must fight for the future of our youth and for Japan.