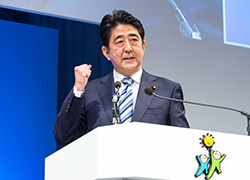 Sixty years ago, our predecessors established the Liberal Democratic Party with the express purpose of "rebuilding Japan." Sharing the same goals, conservatives joined together, vowing to protect freedom and democracy, to build a stable political base, to enact strong economic policies, and to enrich the lives of the Japanese people. They also promised to reform many of the mechanisms that had been put in place during the occupation era.
Stable economic policies brought high economic growth to Japan and transformed us into an economic powerhouse. The fruits of these policies were used to create one of the world's fineest social security system, where everyone is covered by pensions and health insurance. Under the Japan-US alliance, we have continued to enjoy peace and prosperity.
Nonetheless, this political endeavor had not always been an easy journey, met with numerous challenges and surprises. Those who came before us discussed, debated, and identified paths they believed to be correct, and boldly progressed without hesitation or regret, regardless of the difficulty. The Liberal Democratic Party has been the party of political responsibility throughout its sixty years thanks to the efforts of everyone who has gathered here today, as well as the local legislators, Party members, branch members, and supporters from around the country.
"Politics must serve the public interest." We took the government in December 2012 by returning to this cardinal principle, and ever, have been at work rebuilding the economy, just as our forerunners did sixty years ago. Three years have since passed. Our GDP has increased by 28 trillion yen, and corporate earnings are at record highs. Wage growth stands at its highest in seventeen years, and the effective job-to-applicant ratio is at the best it has been in twenty-three years. The next step is to extend this virtuous economic cycle to every street corner of the country.
We recently completed framework negotiations on the TPP. This opens up new potential and a new future for Japan, but it is true that many have greeted these developments with anxiety and concern. We will continue to protect our agriculture, forestry, and fishery industries, including those in hilly and mountainous areas. Sometimes, however, the best defense is good offense. We must create a "new age of agriculture" in which young people once again find farming attractive. This will lead to new opportunities, not just for large companies, but for small and medium-sized enterprises too. The TPP will lead to growth for Japan.
We have finally entered Stage 2 of Abenomics. Our target is "dynamic engagement of all citizens." We have defined this more specifically as "GDP of 600 trillion yen," "target birthrate of 1.8," and "no one forced to leave work to provide nursing care." These are clear targets, and we have three new arrows to shoot at them.
Three years ago, some were saying that "Japan is entering its twilight." Yet, we have been successful in transforming negatives to positives, despair into hope. We can do it if we wish to do it. Let us join together to achieve these new goals. This means that we must prevail in next year's House of Councillors election. Let us work together to achieve a shining victory which will mark a major first step towards the next sixty years.