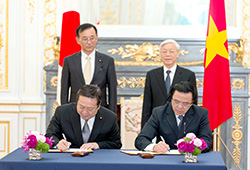 On September 16, International Bureau Director-General Yasukazu Hamada welcomed members of the Communist Party of Vietnam to the State Guesthouse in Minato-ku, Tokyo for the signing of a memorandum on strengthening cooperation between the two organizations. The signing ceremony was followed by a courtesy call by Director-General Hamada and Sadakazu Tanigaki, Secretary-General of the LDP, to H.E. Dr. Nguyen Phu Trong, General Secretary of the Central Committee of the Communist Party of Vietnam.
The signing ceremony was attended by Director-General Hamada and Hoang Binh Quan, Chairman of the party's Commission for External Relations, in the presence of Secretary-General Tanigaki and General Secretary Trong. Also in attendance were Deputy Director-Generals Arata Takebe and Toshinao Nakagawa from the International Bureau. The memorandum pledges to develop and strengthen friendly relations between the two parties, and to work together for world peace and stability, and the interests of both countries.
The parties promised to visit each other frequently and hold personnel exchanges to improve mutual understanding and trust, while also sharing opinions, experiences, and information on their circumstances and matters of concern, and working together to assess developments and conditions.
Secretary-General Tanigaki expressed high hopes during the courtesy call, saying, "The two parties already enjoy very friendly relations and, with the signing of this memorandum, I look forward to seeing them develop even further." General Secretary Trong praised it, noting that "The Liberal Democratic Party has a crucial role to play in the comprehensive development of bilateral relations."
The Socialist Republic of Vietnam celebrated the 70th anniversary of its founding on September 2, and is scheduled to vote in new leadership at the Party Congress scheduled for next year.
Japan contributes to the economy of Vietnam and the development of "quality infrastructure" in many ways, including the participation of Japanese companies in the construction of a new terminal for Hanoi's international airport. The countries have also agreed to lift the import bans on Japanese apples and Vietnamese mangos.
Finally, Secretary-General Tanigaki expressed his hopes for the strengthening and development of the relationship between the two parties, saying, "A growing number of younger party members have taken a positive interest in our relationship with Vietnam."