Following up on Prime Minister Shinzo Abe's visit to Mexico in July 2014 and Foreign Minister Fumio Kishida's visit to Cuba in May, Kenya Akiba, Director of the Party's Foreign Affairs Division, visited both countries between August 10 and 15. He met with leaders of their respective governments and confirmed the desire to strengthen relations with Japan. He also had an opportunity to exchange opinions with Japanese business personnel and Japanese nationals in the two countries.
Mexico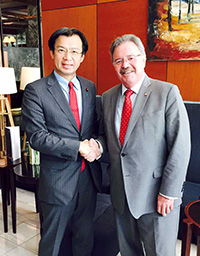 In Mexico, he met with Eloy Cantú Segovia, Chairperson of the lower chamber's Foreign Relations Committee, and Carlos Alberto de Icaza Gonzalez, First Undersecretary for Foreign Affairs.
Chairperson Cantú has a career spanning more than two decades in both houses, and is an expert on Japan, having visited four times. He confirmed a desire to promote relationships and interaction between both the government and legislature levels.
Undersecretary de Icaza noted that this was the 10th anniversary of the Japan-Mexico EPA and Director Akiba asked for further steps to be taken expand trade and investment, and to facilitate the movement to Mexico of Japanese companies involved in the healthcare and medical fields. Undersecretary de Icaza was involved in the negotiation of the EPA as the Ambassador of Mexico to Japan and said, "I think there will be many business opportunities for Japan under the structural reforms being pursued by the current Pena Nieto government."
The number of Japanese companies operating in Mexico has more than doubled over the past five years, and in June 2014, LDP's Foreign Affairs Division requested the Japanese government to establish a consulate in Leon. The consulate will be opened in January of next year. The Foreign Affairs Division will continue to support Japanese companies to set up operations in Mexico.
Cuba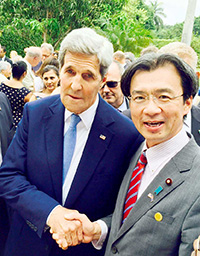 In Cuba, Director Akiba met with Mr. Armando Vergara Bueno, Deputy Director of the Bilateral Affairs Division of the Foreign Ministry, and Dr. Carlos Manuel Gutierrez Calzado, President of the Japan-Cuba Friendship Parliamentary League.
Deputy Director Vergara said, "Our two countries enjoy extremely friendly relations and it is now time to strengthen our economic relationship." Director Akiba agreed with this sentiment and said he would seek a relaxation of regulations in the healthcare and agricultural sectors, where there are particularly high hopes for investments from Japan.
President Gutierrez has worked in that post for the past 22 years to promote friendship with Japan. He also heads the country's largest corporate group in the biotechnology and pharmaceutical industry. Director Akiba noted the large potential for increasing cooperation between the two countries in the healthcare area. Dr. Gutierrez expressed particularly high regard for Japanese advanced medical technology and quality, and a desire to promote exchange in the healthcare area.
While in Havana, Director Akiba joined Ambassador Hiroshi Sato at the opening ceremony for the US Embassy, which returned to the country on August 14 after being closed for 54 years, and had the opportunity to meet Secretary of State John Kerry. Only a handful of countries had representatives on hand for the ceremony, and Director Akiba's presence served to enhance Japan's stature in Cuba.