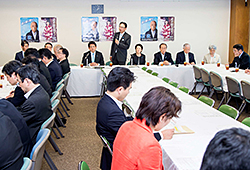 The Party's Headquarters for North Korean Abductions (Chairperson: Keiji Furuya, member of the House of Representatives) asked the government on June 25 to strengthen sanctions against North Korea if there were no concrete progress on the new investigation into abductees.
North Korea has been insincere in its handling of this issue. They were supposed to provide the first report from the Special Investigation Committee in the early autumn of 2014 at the latest, but unilaterally gave notice that the report would be delayed.
July will mark one year, which was the target set by North Korea for the investigation period. The North Korean Sanctions Simulation Team (Chairperson: Ichiro Tsukada, member of the House of Councillors), a subsidiary organization of the Headquarters, has therefore taken the lead in the formulation of a statement of demands.
The statement of demands contains 13 items, including: (1) resumption of the sanctions removed in July of last year; (2) expanding the re-entry ban on people traveling to North Korea to include members of the Central Standing Committee and Central Committee of the General Association of Korean Residents in Japan and also nuclear and missile engineers; (3) prohibiting all transfers of money to North Korea (excluding transfers of 100,000 yen or less made for humanitarian purposes); and (4) conducting rigorous inspections in Japan of all ships called in at North Korean ports.
Addressing a Headquarters meeting held prior to the issuing of the demands, Chairperson Furuya expressed his resolve, saying, "Only by applying pressure can we bring them [North Korea] to the table. We will continue to work in close coordination with the government for the return of all victims." Shigeo Iizuka, representing the "Association of the Families of Victims Kidnapped by North Korea (Family Association)," said " This [the preparation of sanctions] is something that we welcome. Please do everything possible to produce indications for the achievement of concrete results."