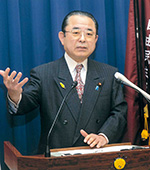 Our campaign policy represents a new resolve worthy of our long history and the LDP's 60th anniversary in November.
The preamble emphasizes and reconfirms our position, stating, "As the Party celebrates its 60th anniversary, we reaffirm that we are the conservative party, grounded in the culture, tradition, and character of Japan and founded for the motto of amending the Constitution."
Our highest priority is on economic revitalization, but within this context we have underscored our resolve to tackle the many domestic and international issues that confront us, including regional development, the role of women in society, earthquake reconstruction, social security, and public safety and counterterrorism.
At the 70th anniversary of the end of the war, we renew our resolve for peace and our support for "Diplomacy that Spans the Globe." Our activity guidelines, likewise, call for every effort to ensure victory in the nationwide local elections and the House of Councillors election coming next summer.
These initiatives and guidelines were formulated to "open a new door" that is worthy of the LDP's 60th anniversary.