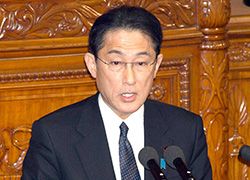 I would like to begin by expressing my heartfelt condolences for the two Japanese nationals who were murdered in Syria. The consequence comes to me as a great sorrow. I am deeply angered and outraged by these unforgivable acts of violence. Japan will never bow to terrorism.
Our philosophy is to cooperate and coordinate with the international community, and we have raised the flag of "proactive contributions to peace" to this end. We will continue to ensure the security of Japan and conduct foreign relations in a manner that better discharges our responsibility as a member of the international community to contribute to world peace and prosperity.
This is a watershed year that marks the 70th anniversary of the end of the WWII. There will be no change in the path Japan has chosen as a pacifist country. Our security environment is met with increasing challenges we require a seamless legal framework to confront it. This is a point that we will continue to explain as we seek the understanding of the Japanese people.
The alliance with the United States remains as the cornerstone of Japanese foreign policy and we will continue to strengthen it across the board.
Our relationship with China is one of our most important bilateral relationships. We will build on the results of the Japan-China summit and the foreign ministers' meetings held during the Beijing APEC last November by restoring emphasis to the big picture and developing ties between the two nations, founded on a "mutually beneficial relationship based on common strategic interests."
With South Korea, we will continue to enhance our communications and mutual understanding at all levels and, with efforts on both sides, build a future-oriented relationship of multilayered cooperation that is worthy of the 50th anniversary of the normalization of diplomatic relations.
In our relationship with Russia, we will continue to advance the political dialogue, including a prospective visit by President Putin at an appropriate juncture later this year, and develop the relationship in ways that contribute to Japan's national interests.
Our policy for North Korea is one of "dialogue and pressure," and we will seek a comprehensive solution to our concerns about abductions, nuclear weapons, and missiles in accordance with the Japan-DPRK Pyongyang Declaration.
The abductee issue is one of the most important concern for the Abe government. We will do everything possible to ensure that the investigations by North Korea lead to concrete results in the form of the return of all of the abductees to Japan.