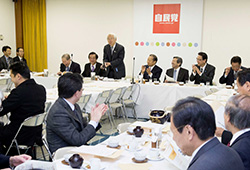 The Party's Comprehensive Research Commission on the Establishment of the Disaster Resilient Japan (Chairperson: Toshihiro Nikai, member of the House of Representatives) invited Governor of Hyogo Prefecture Toshizo Ido to the Party Headquarters on January 30 to hear about initiatives to use the lessons from the Great Hanshin-Awaji Earthquake to better prepare for disasters.
In his opening remarks, Governor Ido said, "What we have learned from the earthquake is the importance of safety. Human life and economic activity are only possible when safety is assured. I believe safety is one of the keys to regional development."
Emphasizing that "we must be better prepared for the next major disaster," he provided an overview of the Tsunami disaster prevention infrastructure construction plan, anti-seismic construction promotion program, and obsolete buildings program that the prefecture uses to ready itself for a great earthquake along the Nankai Trough.
He then went on to discuss the "need to create a systematic legal framework that enables speedy recovery and reconstruction." He made several proposals, including the formulation of a basic act on reconstruction, a legal framework for funding, the establishment of a government agency to recruit and coordinate disaster response staff, and the nationwide adoption of Hyogo's "Mutual Aid System for Housing Reconstruction" ("Phoenix Mutual Aid System"), which is a program to provide assistance for the rebuilding and repair of homes damaged by natural disaster. Many of the members in attendance expressed their understanding and support.
Chairperson Nikai expressed his respect to Governor Ido for what he has done over many years toward further reconstruction in the disaster area, and said, "Natural disaster is not something that only happens to others, it can happen to any one of us. We need to use the lessons that Hyogo has learned to build a more resilient Japan."