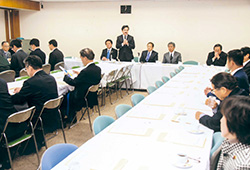 Defense authorities from Japan and China resumed talks about the creation of a "maritime communications mechanism" on January 12, and the Ministry of Defense briefed a joint meeting of the Party's National Defense Division (Director: Masahisa Sato, member of the House of Councillors) and Research Commission on Security (Chairperson: Hiroshi Imazu, member of the House of Representatives) on their discussions on January 22. This was the first time the talks had been held in roughly two and a half years.
The major objective of the "maritime communications mechanism" is to strengthen defense cooperation between the two countries and prevent incidents in their sea and air space.
A joint working level team from the two countries has already agreed to: (1) hold an annual meeting and annual experts meeting; (2) establish a hotline; and (3) establish direct communications between ships and aircrafts. The January meeting discussed the adoption of "Marine and Air Communications Mechanism" as the formal name and confirmed the countries would endeavor to operate the system as soon as possible.
China had refused to discuss the mechanism since the nationalization of the Senkaku Islands (Ishigaki, Okinawa) by the government of Japan in September 2012, but Prime Minister Shinzo Abe and Chinese President Xi Jinping confirmed in a summit last November that talks would continue to move forward at the working level.
The Ministry of Defense will continue to keep the joint meeting informed about developments in the talks.