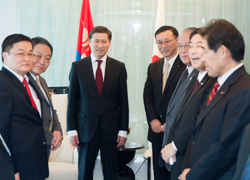 LDP President Tanigaki paid a courtesy call March 13 on Sukhbaatar Batbold, Prime Minister of Mongolia, accompanied by Tsutomu Takebe, president of the Japan- Mongolia Parliamentarian Friendship League, Ichiro Aisawa, special assistant to the LDP President, and Yasufumi Tanahashi, Director-General of the LDP International Bureau.

Prime Minister Batbold stated that "marking the 40th anniversary of the establishment of diplomatic relations between Mongolia and Japan this year, we are grateful for the ongoing support from the Liberal Democratic Party. I am certain that the determined and hard-working Japanese people will overcome the present challenges and achieve reconstruction."

President Tanigaki, touching upon the fact that Prime Minister Batbold rescheduled his visit to Japan a day earlier so that he would be able to attend a memorial service for victims of the Great East Japan Earthquake on March 11th, expressed his gratitude for Prime Minister saying, "Your gesture further strengthened the already strong friendship of our two countries".