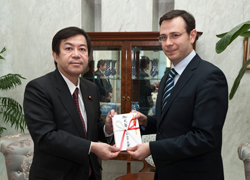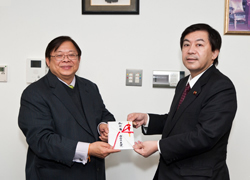 Director-General Yasuhumi Tanahashi of the International Bureau visited the Turkish and Thai Embassies in Tokyo on February 1 to deliver donations for earthquake and floods victims in the two countries. Mr. Sabri Tunc Angili, Charge-D'affaires of the Turkish Embassy, in thanking him on behalf of the Republic of Turkey said that it was encouraging that the two nations provided assistance to each other when faced with great difficulties such as the massive earthquakes that occurred last year in the two countries.

The Director-General Tanahashi later visited the Thai Embassy and handed the donation to the Ambassador Virasakdi Futrakul. His Excellency Mr. Futrakul thanked him on behalf of the Kingdom of Thailand. The Ambassador was heartened that Japan and Thailand were able to help each other during difficult times. Thai and Japanese people were old friends who enjoyed enduring and strong relations.

The donations had been collected among Party members since last October. On October 25, LDP established a disaster support unit to coordinate the LDP's response to the Thai floods and Turkish earthquake and placed donation boxes in the offices of the Party Headquarters, Party Branches, and LDP Diet members' offices, and also opened bank and Post Office deposit accounts to seek contributions from party members.