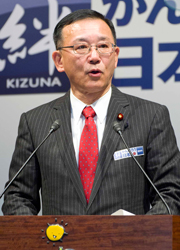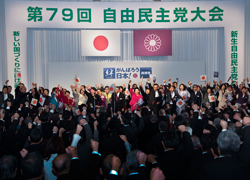 The 79th Party Convention was held on January 22, with President Tanigaki expressing his determination to recapture government. He demanded an early general election that would put an end to the present administration of deceit and restore the legitimacy of the Japanese government.

Tanigaki criticized the DPJ's Manifesto released at the last general election that contained serious flaws. He highlighted the damage to Japan's economic health and reputation wrought by the present DPJ government's poor performance in articulating and delivering sound policies. He expressed his deep concern for the irreparable damage that a continuation of the DPJ's administration would inflict on Japan. President Tanigaki introduced LDP's policy agenda that include the measures the LDP would take to build our country as well as amendments to the constitution.

A number of guests were invited to address the Convention, with a highlight being Mayor Yoshiaki Suda from the town of Onagawa in Miyagi Prefecture that was devastated by the Great East Japan Earthquake. He moved his audience deeply with his update on the devastation and rebuilding efforts in his town. He called for politicians to assume full responsibility for the recovery.

At the end of the Convention, Party members reaffirmed their determination to regain government at the next election in order to start the rebuilding of Japan.