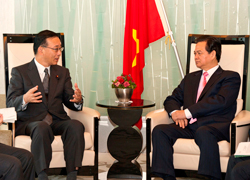 On November 2, LDP President Sadakazu Tanigaki visited Prime Minister Nguyen Tan Dung of the Socialist Republic of Vietnam during an official visit to Japan. The two leaders met at a hotel in Tokyo; International Bureau Director-General Yasufumi Tanahashi accompanied Mr Tanigaki.

Prime Minister Dung expressed the view that the friendship and collaborative relationship with Japan was strong in all respects and that the Liberal Democratic Party had made a substantial contribution to the strengthening of friendly relations between the two countries. He looked forward to further close relations with the LDP.

President Tanigaki expressed his deep gratitude for the support and consideration extended by the people of Vietnam to victims of the Great East Japan Earthquake, and also thanked Prime Minister Dung for his visit to the earthquake stricken area during the current visit.