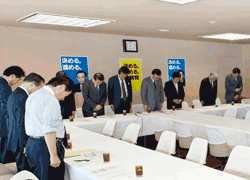 President Tanigaki and other LDP officials paying one minute's silence for the victims in Thailand and Turkey

On October 25th, LDP established a disaster support unit, to be headed by President Tanigaki, to coordinate the LDP's response to the Thai floods and Turkish earthquake.

At the first meeting convened on the 27th, President Tanigaki stated: "Japan has enjoyed enduring and strong relations with both Thailand and Turkey. We must not forget the friendship and support extended to us at the time of Eastern Japan Great Earthquake by the two countries. We must do whatever we can do to support these countries."

Chairman Suga of the Party Organization and Campaign Headquarters announced that the LDP would place donation boxes in the offices of the Party Headquarters, Party Branches, and LDP Diet members' offices. The Party would also open bank and Post Office deposit accounts and seek contributions from party members.