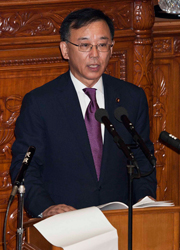 On September 14, each party's representatives responded to the Policy Speech made by Prime Minister Yoshihiko Noda at a plenary session of the House of Representatives.

LDP President Sadakazu Tanigaki pressed PM Noda hard on the quality of his appointments. Both Economy, Trade and Industry Minister Hachiro and Defense Minister Ichikawa made thoughtless remarks soon after their appointments, which triggered their resignations. Mr. Tanigaki criticized the make-up of the Noda cabinet, arguing that the prime minister gave too much weight to achieving party harmony over selecting competent cabinet members.

Criticism was also aimed at the Democratic Party of Japan's unrealized campaign manifesto that included a much-touted child allowance that was later abolished. Mr. Tanigaki said it was evidence that the DPJ's legitimacy as a ruling party had completely collapsed. He demanded an early dissolution of the Diet and the calling of a general election. "The DPJ must withdraw its manifesto, apologize to the Japanese people and seek their support in an election," said Mr. Tanigaki.

President Tanigaki also criticized the reckless action of the DPJ in not being accountable to the public by closing the Diet plenary session after only four days.

Regarding PM Noda's request for consultation between the ruling and opposition parties, Mr. Tanigaki said "it is illogical not to hold deliberations in the Diet while at the same time requesting consultation between the ruling and opposition parties outside of the Diet". He said this indicated Noda's contempt for the Diet and parliamentary process.