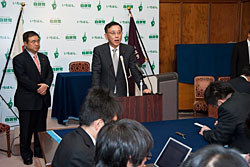 LDP President Sadakazu Tanigaki held a press conference on November 24 in response to the North Korean bombardment of South Korea's Yeonpyeong Island. "This is not only the crisis of the Korean Peninsula but also a serious challenge to the peace and order of East Asia. We strongly protest the actions of North Korea," he said.
"This also threatens the peace of Japan. We should, therefore, spare no effort in working with the government in crafting appropriate counter measures to this threat. Nevertheless, we can't help but wonder whether the government's initial response was taken in full awareness of the seriousness of the crisis".
Prior to the press conference, a joint meeting of Foreign Affairs and Defense Divisions was held, where some members suggested that the Prime Minister learned about the news of the incident from the TV news. Others pointed out that Defense Minister and other ministers concerned did not swiftly come to their offices after hearing the news. Many members complained that the DPJ government appeared not to have even a rudimentary understanding of crisis management.
At the Diet Affairs Committee Chairmen meeting of the seven opposition parties the Chairmen agreed to: (1) hold an intensive deliberation session in the Standing Committee on Budget of the both Houses to discuss the North Korean problem; and (2) adopt the Diet resolution which condemns North Korea.
On behalf of the seven parties, Ichiro Aisawa of the LDP Diet Affairs Committee Chairman proposed the above decisions to Chairman Yoshio Hachiro of the DPJ.