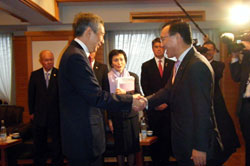 On October 6, Sadakazu Tanigaki, President of the Party, paid a courtesy call on H.E. Mr. Lee Hsien Loong, Prime Minister of Singapore, who was on an official visit to Japan. They exchanged views on Japan-Singapore relations and their respective domestic political situations. In response to Prime Minister Lee's inquiry about the change of government in Japan, Mr. Tanigaki explained the big difference between the two parties. The ruling Democratic Party of Japan is adopting a big government, interventionist approach in areas such as social security and agriculture, whereas the LDP's political aims are to build an economic system that allows individual endeavor to flourish. Prime Minister Lee, in his overview of the current economic situation in Singapore, said that his country is achieving great success in the biotech industry and development of water supply and waste disposal technology, two areas of great interest to Japan as well.

Prime Minister Lee asked what measures the LDP was taking to regain government. Mr. Tanigaki replied that "the LDP will focus on the DPJ's weak point - economic growth strategies - while at the same time emphasizing eco-technology, promoting the development of tourism as a key economic driver, and revitalizing agriculture".

The two leaders also exchanged views on such matters as the decreasing birthrate in their two countries.