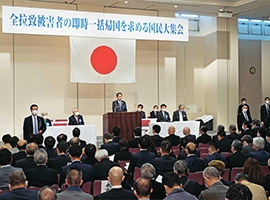 A rally was held on November 13 demanding the immediate return of all abductees from North Korea. It was organized by the Association of the Families of Victims Kidnapped by North Korea, "NARKN," a group involved in abduction issues, and a multi-party parliamentary association that deals with the problem. Roughly 800 people were in attendance. During the rally, members of the cabinet and legislators expressed their commitment to resolving the problems.
Prime Minister and LDP President Fumio Kishida, who has positioned resolution of the abduction issue as one of the Cabinet's priority tasks, said, "The victims and their families are growing older, and there is no time to waste. I am personally committed to resolution." Noting the need for the understanding and cooperation of the international community and the importance of building a relationship with Chairman Kim Jong Un, the Prime Minister continued, "I will spearhead the effort and bring all of the resources of the government to bear."
Hirokazu Matsuno, the Minister in Charge of the Abduction Issue, suggested a need for policies to better educate the domestic and international publics, saying, "An expression of strong resolve on the part of the people will forcefully propel efforts forward."
Among Party parliamentarians, Eriko Yamatani, the Chairperson of the LDP Headquarters for North Korean Abductions, and Keiji Furuya, the chairperson of the parliamentary association for abduction issues, underscored the need to strengthen activities and work in close coordination with the government to achieve solutions.
<Prime Minister Fumio Kishida expresses his resolve: "I am personally committed to resolution.">