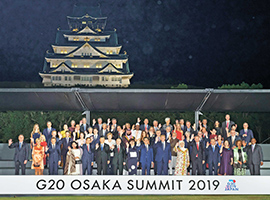 The G20 Summit is an annual forum at which the heads of state of major developed and emerging countries meet to discuss global issues. The first summit was held in Washington D.C. in November 2008 to tackle the economic and financial crisis stemming from the collapse of Lehman Brothers.
Japan hosted the G20 summit for the first time this year. Held on June 28 and 29, it was attended by representatives of 20 countries and regions, including the G7 Summit members (Canada, France, Germany, Italy, Japan, the United Kingdom, and the United States), the European Union, BRICS (Brazil, Russia, India, China, and South Africa), and other invited nations and international organizations.
At the dinner for the heads of state, Prime Minister and LDP President Shinzo Abe spoke about the development of the "commerce city of Osaka." After sharing the history of Osaka Castle, the symbol of its development, he expressed his hopes for the success of the summit and for world peace and prosperity.
During the two-day forum, participants engaged in lively discussions across four sessions covering topics facing the world today: 1) global economy, trade, and investment, 2) innovation (digital economy and artificial intelligence), 3) addressing inequality and realizing an inclusive and sustainable world, and 4) climate change, energy, and the environment. At the end of the summit, the G20 leaders adopted a declaration to strive to "realize a free, fair, non-discriminatory, transparent, predictable, and stable trade and investment environment, and to keep our markets open."
At a press conference after the summit, Prime Minister Abe emphasized the significance of the declaration, saying, "It clearly affirms the basic principles of the free market. The G20 leaders unanimously resolved to drive strong economic growth while remaining vigilant to the risk of a downturn."
Although this year's summit was held under the shadow cast by US-China trade friction over the global economy, it produced significant achievements; the declaration incorporated the need to reform the World Trade Organization, the creation of international rules to address the digitalization of the economy, and new goals to eliminate additional ocean pollution from plastic litter by 2050.
Photo: Group Picture of Heads of State with Illuminated Osaka Castle in Background