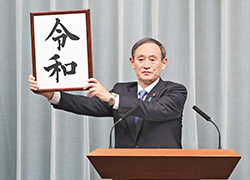 On April 1, the government announced the new erasuceeding "Heisei" to benamed "Reiwa."
A panel of experts were convened at around 9:30 a.m. to hear expert opinions on the name, followed by a hearing with the speaker and vice speaker of the Lower House as well as the president and vice president of the Upper House. After discussions among all Cabinet ministers, the government officially determined the new era name at a Cabinet meeting. Shortly after 11:30 a.m., Chief Cabinet Secretary Yoshihide Suga held a press conference to publicly announce the new era name, displaying "Reiwa" in calligraphy.
The word "Reiwa" was taken from "The Manyoshu," Japan's oldest poetry anthology, marking it the first time for Japan to select an era name from its own classical literature. Prime Minister and LDP President Shinzo Abe explained that "the name means a culture is born and grows when people come together and care for each other beautifully," and renewed his resolve to "work with the Japanese people to carve out a new era brimming with hope."
The Reiwa era will officially begin on May 1, the day of the Crown Prince's coronation as Emperor. The LDP is moving forward with the government on preparations for the event to ensure the entire nation is able to celebrate this historical succession to the throne.