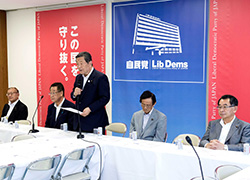 The Party's Headquarters for TPP and the Japan EU Economic Partnership Agreement (Chairperson: Hiroshi Moriyama, Member of the House of Representatives) received an explanation of the Japan-EU Economic Partnership Agreement (EPA) from the government on July 19.
The Japan-EU EPA was signed by Prime Minister and LDP President Shinzo Abe and the leaders of the European Union (EU) on July 17. This will create a free trade zone covering roughly 40% of the world's trade and 30% of GDP. As protectionism emerges in some parts of the world, it sends a strong message on the promotion of free trade.
The final tariff elimination rate will be 94% for Japan and 99% for EU. The elimination of tariffs is expected to expand opportunities for exports and reduce prices for imports.
In agricultural, forestry and fishing products, however, Japan did exclude rice from tariff reductions and elimination and also ensured safeguards for beef in light of the impact on domestic agriculture, forestry and fishing industries.
According to the government's explanation, when the EPA comes into effect, it will increase Japan's GDP by approximately 5 trillion yen and create roughly 290,000 jobs.
Prior to the signing, Takamori Yoshikawa, the chief secretary of the Headquarters, had a meeting in Belgium with EU officials involved in agriculture, where both parties agreed to promote the cooperative ties between Japan and the EU for early entry into force.
In his remarks, Chairperson Moriyama expressed strong expectations for early enforcement, saying, "The Japan-EU EPA will create a giant economic zone and serve as a new engine for Abenomics."