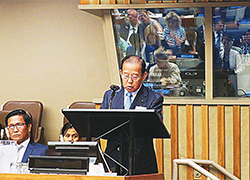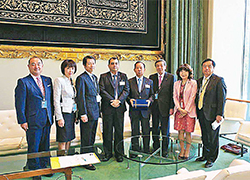 Immediately after touring the flood disaster area in northern Kyushu, Secretary-General Toshihiro Nikai (Chairperson, LDP's Headquarters for Promoting the Establishment of Disaster Resilient Japan) traveled to the United States from July 18 to 22. At a special session of the United Nations, he highlighted the importance of building "disaster resilience," a nationwide movement that began after the Great East Japan Earthquake of 2011. The world is confronted by frequent and large natural disasters, and we must spread the idea of preparing in advance to respond to disasters and mitigate damages if we are to protect the lives and property of our citizens, he said.
During his speech, Secretary-General Nikai noted that there are more than 600 million people in the world who do not have access to safe drinking water, and that one in three do not have access to clean sanitary facilities. Solving water issues, he explained, improves the stability of states and societies and removes a major cause of war and dispute. At the same time, he noted that 90% of the world's natural disaster victims come from water-related damages, primarily flooding and drought. It is, therefore, urgent that we build resilience to water-related disasters, he underscored.
He then discussed his visit to Asakura City, Fukuoka Prefecture, which recorded a record-breaking 774 millimeters of rainfall in just nine hours in July of this year. This experience highlights the growing importance of disaster resilience as a fundamental concept for protecting the lives of citizens when confronted with an unforeseeable natural disaster. As a disaster-prone country, Japan has a duty to promote these efforts on a global scale and contribute to better safety and peace of mind for the world at large. Japan, he said, is committed to sharing its insights, experiences, and lessons with the rest of the world.
Secretary-General Nikai also spoke about "World Tsunami Awareness Day (November 5)" which, under his leadership, was unanimously adopted by the United Nations General Assembly in 2015. He described the story "The fire of 'Inamura (rice sheaves)'" from his home of Wakayama Prefecture that was the inspiration for the day and is highly regarded by the international community. He also reported that in November 2016, 360 high school students from 30 countries attended the High School Student Summit on World Tsunami Awareness Day in Kuroshio Town, Kochi Prefecture to learn about and help spread the idea of tsunami preparation. This year, he said, the Summit would take place in Okinawa Prefecture.
He closed his remarks by expressing the idea of "never losing even one life to water-related disaster" and describing Japan's readiness to further contribute to world peace and stability in the areas of water and disaster. The speech was met with rousing applause throughout the hall at the UN General Assembly.