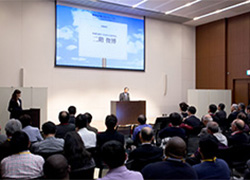 November 5th marked the first "World Tsunami Awareness Day" since its adoption by the United Nations General Assembly in December 2015. To commemorate the day, the World Tsunami Awareness Day Forum was held in Tokyo, hosted by the National Resilience Promotion Office, Cabinet Secretariat. Secretary-General Toshihiro Nikai was in attendance and said, "We can avoid tsunami damage. It is crucial that we protect life above all else, and this is something that the political sphere needs to emphasize more." He spoke of this resolve before a full house.
World Tsunami Awareness Day was chosen to commemorate the story of Goryo Hamaguchi, who saved the lives of villagers when the Ansei-Nankai Earthquake occurred and triggered a tsunami 162 years ago on November 5. It is said that Hamaguchi was a goshi (rural samurai) of Hiro Village in the Kishu Domain (now Hirogawa Town, Wakayama Prefecture) who set fire to his own recently harvested rice sheaves to guide the people of the village to higher grounds, thus saving their lives.
Secretary-General Nikai said in his speech, "I am confident that we can protect our priceless children and grandchildren. If everyone cooperates, it is possible to avoid tsunami damage. We can save almost every life."