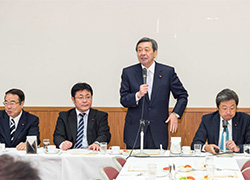 On October 4, the Party's Research Commission for the Establishment of a Tourism Oriented Nation (Chairperson: Motoo Hayashi, Member of the House of Representatives) was briefed by the Japan Tourism Agency on the status of inbound tourism, and discussed the findings.
The agency reported that the number of foreign travelers visiting Japan this year had reached 16.06 million by August and is forecasted to surpass 20 million in November. In terms of countries and regions, roughly 70% of all travelers came from East Asia.
During the January-June period, spending by foreign visitors was up 18% compared to the previous year at a record high of 1,883.8 billion yen.
In response to the report, members in attendance expressed the need for better training of tourism experts within the government, better promotion of railway-based tourism, and better regulation of "ground operators".
The meeting also noted growing problems with ground operators who plan and arrange travel products for foreign visitors, including the sales of overpriced merchandise by unlicensed guides who receive kickbacks from duty-free shops.
Japan Tourism Agency Commissioner Akihiko Tamura said, "We want a registration requirement for travel operators" and indicated his intention during the next ordinary session of the Diet to submit amendments to the relevant laws that would improve the safety and reliability of inbound travel.
In his remarks to the meeting, newly-appointed Chairperson Hayashi said, "I look forward to hearing opinions from everyone and moving them into action. What we do here will ultimately lead to 'regional development' and 'dynamic engagement of all citizens.'" He went on to speak about his resolve to do everything possible to turn Japan into a tourism-oriented nation.