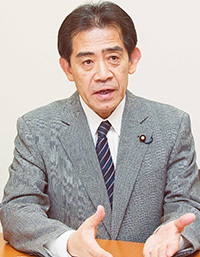 One of the top priorities for the Abe government is to achieve the "dynamic engagement of all citizens," an effort that is being closely watched both domestically and internationally. The government has articulated a clear national goal to maintain a population of 100 million over the next 50 years, and both the government and our Party have initiated a number of programs to create a society in which everyone can live full and rich lives in their homes, workplaces, and communities. We spoke with Ichiro Aisawa, Chairperson of the Party's Headquarters for the Promotion of the Dynamic Engagement of All Citizens, about how he wants to meet these commitments to the people and achieve the goals set for the "Three New Arrows" of Stage 2 of Abenomics.
Q:
This is the year in which we expect to start seeing results from programs for the "dynamic engagement of all citizens."
Aisawa:
More than three years have passed since the Party regained the government, and as we reach the stage where we finally break out of deflation, the new task before us for the next three years is the dynamic engagement of all citizens, and the Abe government has positioned this as its "top priority" and "main policy focus."
Japan is facing structural changes in the form of declining birthrates and aging demographics. In 1984, the elderly accounted for 9.9% of the population, but that has risen to 26% (2014). The population itself peaked in 2008 and has begun to decline, a situation that induced anxiety about the future and pessimism about our economic growth potential. If we allow ourselves to lose our confidence, however, we run the risk of entering a negative spiral. We want to share this concern with the public and, as we begin to enjoy the fruits of the Abenomics-driven growth, we need to begin to tackle this issue, concentrating all of the energy and power of Japan and the Japanese people under the leadership of Prime Minister Shinzo Abe. We cannot procrastinate on this issue.
The government is actively discussing these issues under the leadership of Katsunobu Kato, Minister for Promoting Dynamic Engagement of All Citizens, and as the Chairperson of the promotion headquarters within the Party, I also bear heavy responsibility for this priority task.
Q:
The Headquarters has already published "emergency recommendations," and they have been reflected in government policies.
Aisawa:
Within the emergency recommendations, we have defined two priority objectives that will build confidence and provide a clear outlook for the future: a "target birthrate of 1.8" and "no one forced to leave work to provide nursing care."
The total fertility rate for 2014 was only 1.42, which is the reason for the decline in births. We need to make fundamental improvements in the situation so that each and every person in Japan is able to fulfill their desires to marry, give birth, and bear children. There are several areas in which we need to redouble our efforts; for example, programs to provide for job stability, improvements in wages and benefits, support for child rearing, and the reduction of the burden of educational costs.
Meanwhile, we have more than 100,000 people who leave their jobs each year to provide nursing care to family members and their loved ones. With the population aging and in decline, the Japanese economy cannot survive when a large number of our working-age population leave their jobs because they need to provide nursing care. We must make a national effort to provide for both nursing care and jobs. This means that we have to make it easier to obtain Family Care Leave. We also need to train and retain professional nursing care workers, and we need to enhance our systems to support families.
Our Party places great emphasis on listening to the opinions and desires of the people in the process of finalizing policies. This was certainly true of the recommendations; Prime Minister Abe acknowledged that they were indeed the "voice of the people." Therefore, we need to work in close coordination with our colleagues in the government to rally both the public and the private sectors behind programs to achieve these objectives.
Q:
There is a House of Councillors election coming up in the summer. What will you be doing in that respect?
Aisawa:
The government is expected to finalize a "Plan to Realize the Dynamic Engagement of All Citizens" this spring, and I will be working closely with other officers in the Headquarters in an intensive effort to consolidate opinions within the Party because we understand just how important this area is. This will be the centerpiece in the platform that the LDP presents during the House of Councillors election.
We particularly want to emphasize manpower. As the working-age population declines, there are concerns that we will see a shortage of labor in areas such as nursing care, welfare, infrastructure, and bus and truck drivers. We need to address this by building an economy and a society that allows everyone to fully participate and support a wide range of working arrangements. For instance; we need to provide ways for people to get back in the game after they have experienced failure; we need to encourage the elderly and foreign nationals to work; and we need to encourage the independence of the disabled and those suffering from difficult diseases.
We also need to support enhancements to our scholarship systems so that the students who are the future leaders of Japan do not abandon their studies because of economic burdens. We also have a considerable number of young people who refuse to attend school or who have become "shut-ins." We need to provide support and encouragement to allow these people to function as members of society and actively contribute to their communities.
Everyone has something they can do, something they excel at. As we capitalize on this, we will improve productivity and accelerate private sector demand driven economic growth. Finally, we have been facing structural issues for many years, and I think we need to start addressing them as part of our effort to promote the "dynamic engagement of all citizens."