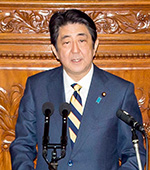 [United Nations General Assembly]
During the United Nations General Assembly meeting in late September, commitment to push strongly for reform of the Security Council was confirmed with the heads of Germany, India and Brazil.
[Visit to Central Asia]
On a trip to Central Asia in mid-October, I was able to announce business opportunities worth more than 3 trillion yen.
[Japan-China-South Korea Trilateral Summit]
During the Japan-China-South Korea Trilateral Summit in November, agreement was reached to fully restore the framework for cooperation among the three countries and hold regular summits. It was also agreed that Japan would chair the summit this year. During a meeting with Premier Li Keqiang, a common awareness was shared of the need to strengthen momentum under the concept of a "Mutually Beneficial Relationship Based on Common Strategic Interests." During the meeting with President Park Geun-hye, it was confirmed that Japan and Korea would enter a new, forward-looking era with the final and irreversible resolution of the comfort women issue.
[G20, APEC, ASEAN Summit]
In mid-November, the G20 summit (Summit on Financial Markets and the World Economy), the Asia-Pacific Economic Cooperation (APEC) summit, and the Association of Southeast Asian Nations (ASEAN) summit issued clear and consistent messages on the strong resolve of the international community to combat terrorism.
[East Asia Summit]
During the East Asia Summit in late November, many heads of states expressed concern about unilateral changes made in the South China Sea (by China) and discussed the importance of resolving disputes peacefully in accordance with international law. This was included in the chairman's statement.
[COP21]
At the 21st session of the Conference of the Parties to the United Nations Framework Convention on Climate Change (COP21) in late November, the Paris Agreement was adopted as a fair framework with, for the first time in history, the participation of 195 countries and the the European Union (EU).
[Visit to India]
On my visit to India in mid-December, India agreed to use the Shinkansen system in its high-speed railway plan.
[Foreign-policy directions this year]
This year, Japan will chair the Ise-Shima Summit and is scheduled to become a non-permanent member of the United Nations Security Council. Japan will continue to play a leading role in diplomatic efforts around the world. We will cooperate closely with the rest of the world as we provide leadership.