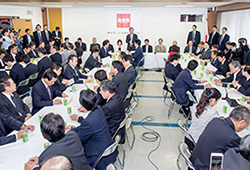 Following the basic agreement reached on the Trans-Pacific Strategic Economic Partnership Agreement (TPP), the Party established its TPP Response Headquarters (Chairperson: Policy Research Council Chairperson Tomomi Inada), which had its first meeting on October 29. It heard explanations from the Cabinet Secretariat on the "Basic Guidelines" finalized by the government's comprehensive TPP response headquarters and confirmed how the LDP's Headquarters will proceed in subsequent discussions.
During her opening remarks at the meeting, Chairperson Inada said, "We must put together an all-LDP response." She also discussed her intention to address the anxieties regarding the TPP that Japanese people have expressed, saying, "Our strength is that it is a party of the people, and it is up to us to incorporate the opinions of local constituents in responses." Secretary-General Sadakazu Tanigaki (serving as Advisor to the Headquarters) emphasized the significance of the TPP as a "a strong card for the economic revitalization of Japan," and said that it should be directly linked to medium and long-term growth of the Japanese economy, regional development, and a strengthening of the agriculture, forestry and fisheries sectors.
Akira Amari, Minister in charge of Economic Revitalization, said the basic agreement was "just a start." "The important point is how we respond to the people." He underscored the importance of the government and ruling coalition working together to develop measures to make full use of the TPP to support local small and medium-sized businesses and in other areas.
The Party's Headquarters will formulate recommendations to the government targeting mid-November, and those recommendations are expected to be incorporated in the TPP Response Policy Guidelines scheduled to be completed by the government at the end of the month. The Headquarters will also be meeting with the Party's relevant Policy Divisions for detailed studies of the TPP treaties and related legislation.