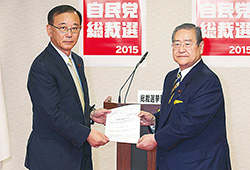 The Party's Presidential Election Administration Committee (Chairperson: Takeshi Noda, member of the House of Representatives) received recommendations for the Party's presidential candidates at the Party Headquarters on September 8.
Current President Shinzo Abe was the one and only candidate, and his reelection was therefore confirmed.
After all filings had been received at 8:30am that morning, Chairperson Noda declared President Abe to have been elected and hand-delivered a notice of election results to Secretary-General Sadakazu Tanigaki.
Chairperson Noda then reported the election results at a press conference.
The election will also be reported to a "Plenary Meeting of Party Members from Both Houses of the Diet in Lieu of a Party Convention" to be held at a later date.
Mr. Abe was elected Party president in 2012, while the LDP was out of power, and led the Party to a landslide victory at the end of the year that produced the 2nd Abe Cabinet.
Prime Minister Abe dissolved the Lower House and called a general election in December of last year, which again resulted in an LDP victory that indicated high levels of public support for the economic achievements of Abenomics over the last three years, the reconstruction and rebuilding from the Great East Japan Earthquake, and the strong leadership shown in promoting greater roles for women in society.
President Abe's new term will be for three years, from October 1, 2015 until September 30, 2018. Under his leadership, the government and the Party will continue to prioritize economic recovery, foreign policy, security, and other key issues.