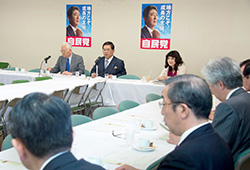 On April 15, the Special Committee on Superconducting Maglev Linear Motor-Car Train (Chairperson: Naokazu Takemoto, member of the House of Representatives) heard from Keiji Tachikawa, former president of NTT DOCOMO and current representative of Tachikawa Technology and Management Lab, about "technology for a maglev shinkansen."
Mr. Tachikawa started his remarks with a history of the development of the superconductor technology at the heart of the maglev shinkansen.
The phenomenon of superconductivity occurs when specific metals and compounds are cooled to extreme temperatures of around minus 270 degrees Celsius, where their electrical resistance becomes zero. Then the discovery of a material that achieves superconductivity at minus 196 degrees Celsius opened the way to practical application.
In addition to maglev trains, superconductivity is considered applicable to medical technologies such as magnetic resonance imaging (MRI).
The maglev train is currently undergoing tests at the Yamanashi Maglev Test Track, and in 2003 set a world speed record of 581 kph.
At the conclusion of his remarks, Mr. Tachikawa said that "political support will be necessary" to bring superconductor technology to global markets and it will be crucial that top leaders be involved in its sales.
Members in attendance called for a forward-looking approach. Among the comments was, "JR Central is responsible for the construction costs, but what is the involvement of the government in research and development?"
Chairperson Takemoto shared his expectations of superconductivity, which has attracted attention from around the world and said, "Japan has the world's most advanced maglev technology. This could be one of the pillars of the growth strategy."