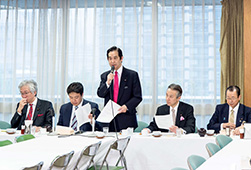 The Party's Research Commission for the Establishment of a Tourism Oriented Nation (Chairperson: Kozo Yamamoto, member of the House of Representatives) held a meeting on April 7 to exchange opinions on the topic of "strengthening inter-agency coordination to promote a tourism-oriented nation."
According to a study by the Japan National Tourism Organization (JNTO), the number of foreign travelers visiting Japan over the past year hit a record high of 13,413,600 (estimate). Prime Minister Shinzo Abe has identified the development of a "tourism-oriented nation" as one of the focuses in his growth strategy, and has taken measures to achieve a target of 20 million foreign visitors by 2020, the year of the Tokyo Olympics and Paralympics.
During the meeting, members heard explanations from relevant ministries and agencies about using terrestrial television programs in other countries to communicate information, events to promote Japanese cuisine and food culture, facilitation of phytosanitary quarantine procedures to promote sales of local food products, and acceptance of educational travel.
Diet members in attendance asked a number of questions about programs to strengthen CIQ (customs, immigration and quarantine) facilities. Among the comments heard were: "the target should not just be a number of visitors, but also sales;" "local railways need to be better able to serve foreign travelers;" and "ministries and agencies should take personal ownership of these programs."
Chairperson Yamamoto said, "Funding is needed to leverage tourism resources of outlying areas," and indicated that the Research Commission should consider all measures, including the introduction of a new tax.