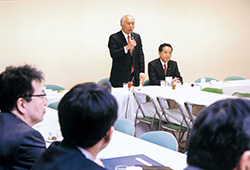 The Party's Project Team on Nuclear Regulation (Chairperson: Masayoshi Yoshino, member of the House of Representatives) met on February 18 to formulate recommendations to enhance preparedness for nuclear accidents, and submitted them to the Minister of State for Nuclear Emergency Preparedness, Yoshio Mochizuki.
There were a total of nine recommendations, covering structures for cooperation, practical training, and better preparedness for large-scale, compound disasters. Also included were calls to increase staffing at the organization within the Cabinet Office responsible for nuclear emergency preparedness, to enhance the working team that provides support to local governments as the "Local Nuclear Emergency Preparedness Council" (tentative name), and to provide financial support to local governments outside the 30-kilometer radius of nuclear power plants, which will accept evacuees from disasters.
The Project Team found the disaster preparedness training conducted prior to the Fukushima Daiichi nuclear disaster to be inadequate preparation for serious incidents, and called on the government to provide training that would "improve decision-making and response to emergencies and unexpected situations," and to ensure the effectiveness of measures to prevent disaster.
The report highlighted the need for the Nuclear Regulation Authority to recruit and train people able to restore the credibility of nuclear regulation.
In addition to compensation commensurate with abilities and performance, it also recommended active exchanges of personnel with other domestic and international institutions such as the International Atomic Energy Agency (IAEA), US Nuclear Regulatory Commission (NRC), and Japan Atomic Energy Agency to improve the professional skills of staff.