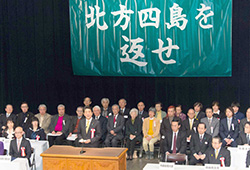 On February 7, "Northern Territories Day," the 2015 National Rally to Demand the Return of the Northern Territories was held in Tokyo. The 1,500 people in attendance included Prime Minister Shinzo Abe, Party Organization and Campaign Headquarters Chairperson Kazunori Tanaka representing the Party, former residents of the islands, and members of groups demanding the return of the territory.
At the opening of his remarks, Prime Minister Abe emphasized that Russian President Putin agreed to begin preparations for his visit to Japan this year in a Japan-Russia Summit held last November in Beijing.
He emphasized his resolve to "work steadfastly for a final solution to the Northern Territories issue in line with the government's basic guideline of resolving the issue of the attribution of the Four Northern Islands and signing a peace treaty."
He went on to say, "This is an issue for all citizens, and as we negotiate with Russia, it will be crucial that there be unity between the government and the people." He expressed his gratitude to former residents of the islands and to groups seeking the territory's return.
"Northern Territories Day" was established in 1981 on the day that the "Treaty of Commerce, Navigation and Delimitation between Japan and Russia" was signed in 1855 and set the boundaries between Japan and Russia at Etorofu Island and Uruppu Island. Former residents of the islands held a roundtable discussion in conjunction with this year's rally, and the attendees unanimously adopted a statement vowing to press forward with activities for the return of the Northern Territories.