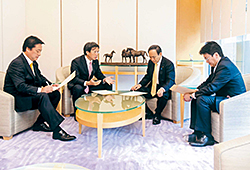 Several Party divisions have issued a joint resolution for the government to react strongly to coral poaching by Chinese ships in the waters off of the Ogasawara islands. The resolution was made by the Foreign Affairs Division (Director: Kenya Akiba, member of the House of Representatives), the Land, Infrastructure and Transport Division (Director: Manabu Sakai, member of the House of Representatives), the Fisheries Division (Director: Ichiro Tsukada, member of the House of Councillors), and National Defense Division (Director: Masahisa Sato, House of Councillors) on November 6.

The resolution was adopted by the four Divisions in a joint meeting held the previous day. Opening remarks at the meeting strongly criticized the practices of Chinese ships, expressing anger at the fact that Ogasawara fishermen had to perform their duties under such difficult conditions, and also at the barbarous methods used in the poaching, which involved ripping the coral out by the roots. The meeting called on the government to move effectively and with urgency, and specifically requested that the relevant agencies increase the number of ships and personnel in the area, conduct stretch inspections, impose heavy penalties, and require steep guarantee deposits. It also demanded higher level protests and approaches to the government of China.

The Ogasawara islands have long been known to have a weak monitoring structure, and the meeting called for improved enforcement and construction of ports that can handle large ships and of landing strips.

According to the Japan Coast Guard, Chinese fishing vessels began entering the waters around the Ogasawara islands in mid-September for the purpose of poaching coral. On November 3, a total of 205 vessels were confirmed to be within Japan's territorial waters and exclusive economic zone (EEZ). The Coast Guard arrested five Chinese captains for violation of the Fishery Act and other laws, and diplomatic channels have issued strong demands against China to prevent further recurrences.