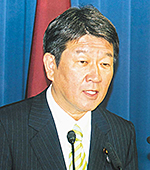 Victory in the upcoming local elections will strengthen both the government and the Party.
Prefectural gubernatorial elections are coming up before the year's end in Fukushima and Okinawa, and next year we have the all-important nationwide local elections.
Two years ago, the Party went into the House of Representatives election promising to "take back Japan," and we won back the government.
We were also victorious in last year's House of Councillors election, and finally brought unified leadership to both Houses.
Next year's nationwide local elections will be the "final battle" in taking back Japan. I look forward to working under the leadership of the President and Secretary-General in unity with my fellow Party members as we move toward our goals.