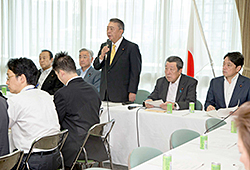 The Party's Headquarters for Accelerating Reconstruction after the Great East Japan Earthquake (Chairman: Tadamori Oshima, Member of the House of Representatives) held a plenary session on August 1 to approve the fourth set of recommendations to accelerate reconstruction. After consultation with the New Komeito, the document will be submitted to the government as ruling-coalition recommendations.
The recommendations note that while the prefectures of Iwate and Miyagi are both clearly in the process of rebuilding, Fukushima, where the nuclear accident took place, has yet to reach that stage. As a result, the recommendations have a two-part structure -- one for Fukushima and one for the disaster area as a whole.
The key issues identified for Fukushima are the promotion of decontamination and construction of intermediate storage facilities and support for the early return of displaced residents. Regarding the intermediate storage facility, the document notes the serious nature of accepting such a facility and recommends for every effort be made to consider and address the concerns of residents.
The recommendations also contain a clear statement advocating the establishment of a new "Emergency Management Agency" (tentative name) that would be charged with preparing for compound disasters and would have general responsibility for conducting research on rescue and reconstruction methods, developing equipment, and providing training. Chairman Oshima emphasized the need for such an organization, saying, "Can we really say that our current systems are up to dealing with an earthquake in the Nankai Trough or directly under Tokyo?"
4th Recommendations for Accelerating Recovery
Chapter 1
Accelerating recovery in the nuclear accident area
1. Vision for the region's future
2. Promotion of decontamination and construction of intermediate storage facilities
3. Support for early returns
4. Support for long-term evacuees (and their communities)
5. Measures to deal with nuclear accidents and disasters
Chapter 2
Further accelerating recovery in the Great East Japan Earthquake disaster-afflicted area (common issues)
1. Rebuilding homes and enhancing infrastructure
2. Restoration of livelihoods, industries, and basic transportation
3. Support for the health and lives of victims