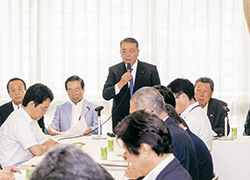 The Party's Headquarters for the Accelerating Reconstruction after the Great East Japan Earthquake (Chairman: Tadamori Oshima, member of the House of Representatives) convened a plenary session on July 16 to discuss the formulation of a fourth set of recommendations for accelerating recovery in the disaster area.
Last November, the Headquarters presented the government with a third set of recommendations specifically for Fukushima, where the nuclear accident occurred. The new recommendations will consist of two segments,: one for Fukushima and one for the remainder of the disaster area. "As a party, we want to reflect the opinions of people on the ground from as many perspectives as possible," Chairman Oshima said.
The plenary session heard an explanation from Chief Secretary Tadayoshi Nagashima of the proposed framework for the recommendations which was subtitled "Full support with aspirations for the recovery and independence of the disaster area".
There were seven proposals for Fukushima:
(1) promotion of decontamination and construction of intermediate storage facilities
(2) support for early returns
(3) support for long-term evacuees (and their communities)
(4) compensation for damages from the nuclear plants
(5) support for independent living
(6) measures to deal with damage to reputation
(7) articulation of a vision for the region
Chairman Oshima spoke on the construction of intermediate storage facilities, saying, "The first and most important problem that we must address is restoring the safety and security of Fukushima's land and its beautiful natural scenery. We hope to achieve (local) understanding for these efforts as quickly as possible."
Three principles for the disaster-afflicted areas outside of Fukushima were also laid out:
(1) rebuilding homes and enhancing infrastructure
(2) restoration of livelihoods, industries, and basic transportation
(3) support for the health and lives of victims